Summary
Introduction to seasonal patterns.
Are seasonal patterns worth your attention?
How would you use seasonality to your advantage?
Gambling, are we?
How many times have you sat down in a casino and said to yourself:
"I don't know all the rules of this game, but hey, let's play anyways, what could go wrong?"
You must have many tools, but do you have all the tools you need?
So what are we missing? What is seasonal investing?
Seasonality refers to repetitive and predictable price movement patterns in a specific time of year.
Seasonal patterns occur in many financial markets: indexes, Stocks, Currencies, Commodities, Bonds, Etc.
Those patterns are characterized by the tendency of the market to rise or fall in particular time of year.
Getting our hands dirty
Let have a simple example (you can check our calculations with our engine):
If we look at "MDY – SPDR S&P Midcap 400" over the last 10 years (since 2007), buying and holding the ETF would yield roughly 160% profit with a yearly CAGR of 8.86% and a max drawdown of ~50% along the way (That's painful).
If we apply a simple monthly seasonal pattern to it and just hold the stock from the end of January till the end of May and from the end of October till the end of December you would have yielded 209% profit with a yearly CAGR of 10.91% and a max drawdown of ~13.8% along the way (Better, right?).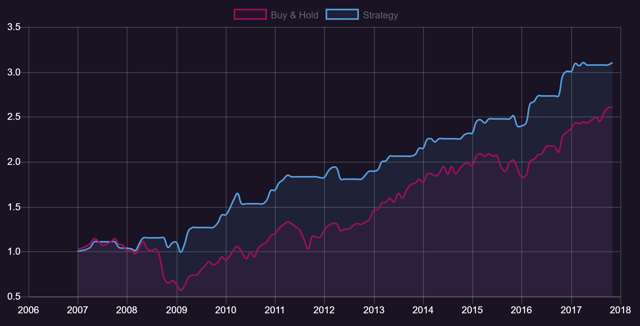 Better results, half the time in the market (half the risk), and that's just by not owning the ETF during unfavorable months. Simple yet powerful.

Think what you could do if you applied this technique to more than one Symbol at a time.
Think what you could achieve if you combine multiple investment strategies in parallel and over the year. We did all that and came up with some interesting results.
Conclusion
When possible, take into account obvious seasonal patterns. Ignoring them is like bringing a knife to a gun fight. I would bet on the one with the gun.
In future posts, we'll be showing you some more strategies based on seasonal patterns.
stay tuned.